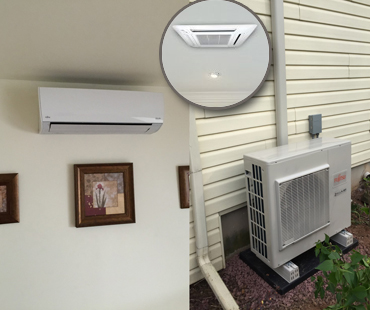 Ductless Mini-Split In South Florida
We Are professional. Reliable and Affortable
Is there a room in your house that always feels hot, even when your air conditioner is running? Xtreme HVAC Services, specializes in installing mini-split units which work on a remote control and can be used for rooms that require a little more attention in the cold-air department. Your comfort, humidity and long-term reliability should all be factors in making a smart decision. As with any important HVAC question, it makes sense to talk with a professional. Contact Florida Air Services and we will explain the many options and variables when it comes to selecting the best solutions for your needs.
Benefits of Ductless
While a ductless system can have several benefits, many homeowners with existing ductwork will be better off from a financial and comfort perspective by using a ducted system. The benefits and concerns of a ductless system are:
Easy for a contractor to install (no ductwork)
Some flexibility in location of air handler
Ability to cool the home by specific zones
Quiet when operating
Call today to schedule your estimate for ductless mini-split installation.
Benefits of Installing a Ductless Mini-Split System
When deciding whether to invest in a ductless mini-split, consider the benefits of doing so:
More control: Central HVAC systems move air through ductwork before it enters the living spaces. Ductless systems deliver that air directly, improving temperature control as a result. If you want to replace an inefficient space heater or window unit, a ductless system is the most cost-effective way to do it.
Easy installation: If you don't already have ductwork inside your home, it can take weeks to install a central HVAC system. Depending on how many ductless units you install, it can take less than a day to have the system fully operational.
Improved indoor air quality: Homeowners with central HVAC systems must invest in duct cleaning to ensure their indoor air quality doesn't deteriorate. With a ductless system, you don't have to worry about it. Ductless systems are also armed with multi-stage filtration, reducing the amount of dirt, dust and other pollutants inside your home. This ensures your IAQ is never compromised.
Increased efficiency: Ductless systems are smaller and pump air directly into your living spaces. With greater zoning capabilities, this leads to better energy efficiency than a conventional central HVAC system. Ductless systems also use advanced chemical processes that are better for the environment.
Cost savings: Ductless systems are smaller in size, use less power to operate and offer more temperature control. When you compile all the benefits of a ductless system, including increased energy efficiency, it ultimately leads to the conclusion that it costs less to operate than a central HVAC system.
Every residential home and commercial building have different heating and cooling needs. At Xtreme HVAC Services, our technicians are trained and experienced to assess your heating and cooling environment to estimate just how much you might benefit from a Trane ductless system.
What's the difference?
Air conditioners provide cool air through two forms of delivery: ducted or ductless systems. The majority of homes in the U.S. are built with air ducts made from sheet metal that run from the main air conditioning unit to each room in the house. The ducts are hidden in walls and air is delivered to each room through vents. In ductless systems, the refrigerant from the outdoor condensing unit is sent directly to an air handler located on the wall or ceiling of a particular room.
If your home only needs a small space conditioning system to heat or cool it, a ductless mini-split might also be your best comfort solution. Like a central HVAC system, mini splits have two main components, including the outdoor compressor and an air handling unit that sits inside. At Xtreme HVAC Services, our HVAC technicians specialize in working with these components, whether it involves repairing, installing or maintaining them.
Schedule Your Free Ductless Mini-Split Installation Estimate Today: (786) 222-0693
At Xtreme HVAC Services, we know how important it is to have a working air conditioner during the hot summer months. Because of this, we provide high-quality service and top-of-the-line Ductless Mini-Split installations to customers in Miami Dade, Broward and Palm Beach County. We make it a point to use only the best possible products. We stand behind every job we do, and offer a money back guarantee if you are not completely satisfied with our work. We employ certified technicians so you can be sure that you are receiving the best, most up-to-date technology. If you're interested in learning more about ductless mini-splits, give us a call today!